MODEL M
Preserve the Character, Shape, and Potency of Your Bud
The Model M dry bud trimmer is the choice for top cultivators looking to scale their bud trimming while maintaining their buds quality and bag appeal. With its patented trichome safe blade design insuring your buds safety. Designed to redefine efficiency and precision in the trimming process, the Model M dry trimmer boasts cutting-edge technology that sets it apart from traditional trimmers. The Model M dry trimmer is the perfect tool to upgrade your harvest, that streamlines the trimming experience for cannabis and hemp growers. Whether you're a seasoned cultivator or a farmer looking to save cost and time, the Model M is here to elevate your trimming game to new heights.
0
Can clean under 10 minutes
0
Thousands of satisfied growers
EASY TO CLEAN
The Model M Dry Trimmers all stainless steel construction and IP65 wash-down motor enable the Model M Dry Trimmer to be broken down for cleaning faster than any other bud trimmer in its class. Cleaning the Model M Dry Trimmer usually takes no more then 10 minutes allowing you to trim more bud and maximize profits.
EYE ON THE BUD
The Model M Dry Trimmers top-loading configuration gives you complete control over the finish of your flower. Unlike tunnel and barrel trimmers, you never lose sight of your buds during the trimming process. With the Model M Dry Trimmer you can see when your product has reached your preferred level of trim.
COST EFFECTIVE
The Model M Dry Trimmer guarantees exceptional results, handling heavy workloads with ease. Running the Model M Dry Trimmer for just 7 hours a day, 5 days a week, yields an astounding 560 lbs of perfectly trimmed bud. Say goodbye to costly manual trimming and embrace the efficiency of the Model M Dry Trimmer today!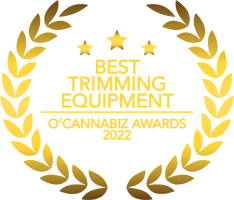 Our Equipment Is Gentle
Fast, Gentle, Quiet, Clean, Efficient


To Maximize Your Harvest
Our harvesting solutions offer flexibility and reliability you cant find anywhere else.
We have meticulously crafted all our equipment to provide you with the utmost tranquility. Say goodbye to the intrusive noise of vacuums and tumble barrels.
CERTIFIED
UL Listed electrical components make the certification process a breeze, enabling you to easily meet the compliance requirements in your local area.
FOOD SAFE
Our equipment is designed to excel in the most rigorous sanitation environments. Featuring stainless steel and food-grade plastic touchpoints, with cleanability embed in the design.
GreenBroz Academy
Videos & Resources
Check out the GreenBroz Academy where you can find videos and other resources on trimmers, grinders, sorters, and extractors.

Patented Rolling Blades
The Model M Dry Trimmer features GreenBroz' patented blade technology gently removes sugar leaves from buds without damaging trichomes or over-trimming your bud.

Surgical Stainless Steel
The Model M Dry Trimmers 316 stainless steel construction meets GMP standard regulations, prevents microbial growth, and minimizes cleaning time.

HMI Control Screen

The Model M Dry Trimmers customizable HMI controls lets you dial in your settings to accommodate any strain type or end-product specifications.
Questions?
Feel free to give us a call or simply reach out through our contact form. Our dedicated team will promptly get in touch with you.
Trim Rate: Up to 16 Pounds Per Hour*
Construction: Surgical Stainless Steel, Food-Grade Stainless Steel, HDPE
Dimensions: Approx. 51"H x 37.25"W x 41.25"L
HMI Digital User Interface
Variable Speed Control
Adjustable Front Shelf
Whisper Quiet Motor
Made in the USA
* Per-hour trim will vary based on strain, product preparation, and desired level of trim. You can expect to see your hourly rate increase as your operation learns how to best implement the Model M in your post-harvest process.
Forward / Reverse Direction Control
Adjustable Timer
Weight: 190 Lbs (including stand)
Emergency Stop Button
Heavy Duty Stainless Steel Stand
Three-Year Manufacturer's Warranty
Power: 110VAC, 60Hz 3A 330W (US)
Power: 220VAC, 50Hz 1.5A 330W (International)