Bud Sorting Machine
Discover the Ultimate Solution in Cannabis Processing with the GreenBroz Precision Sorter. As a leader in cannabis automation technology, this state-of-the-art bud sorter transforms your post-harvest workflow. American-made and trusted for over a decade, the Precision Sorter stands at the forefront of cannabis sorting.
Engineered for maximum efficiency, offering an unparalleled blend of speed and precision. Whether you're a seasoned producer or a growing operation, our automatic weed sorter simplifies your sorting process. This industry first cannabis sorter ensures top-quality results every time. See why the GreenBroz bud sorter has been increasing production speeds since 2015.
The Importance of Precise Cannabis Sorting.
In the competitive cannabis market, the presentation of your product is crucial. Precise sorting plays a pivotal role in packaging, allowing facilities to categorize their harvest effectively. With the GreenBroz Precision Sorter, you achieve a level of consistency essential for shelf appeal.
Sorting ensures that your product presents consistently and professionally on dispensary shelves. Our bud sorting machine makes sure your cannabis looks consistent and attractive. Building trust with your customers about your brand's quality and reliability.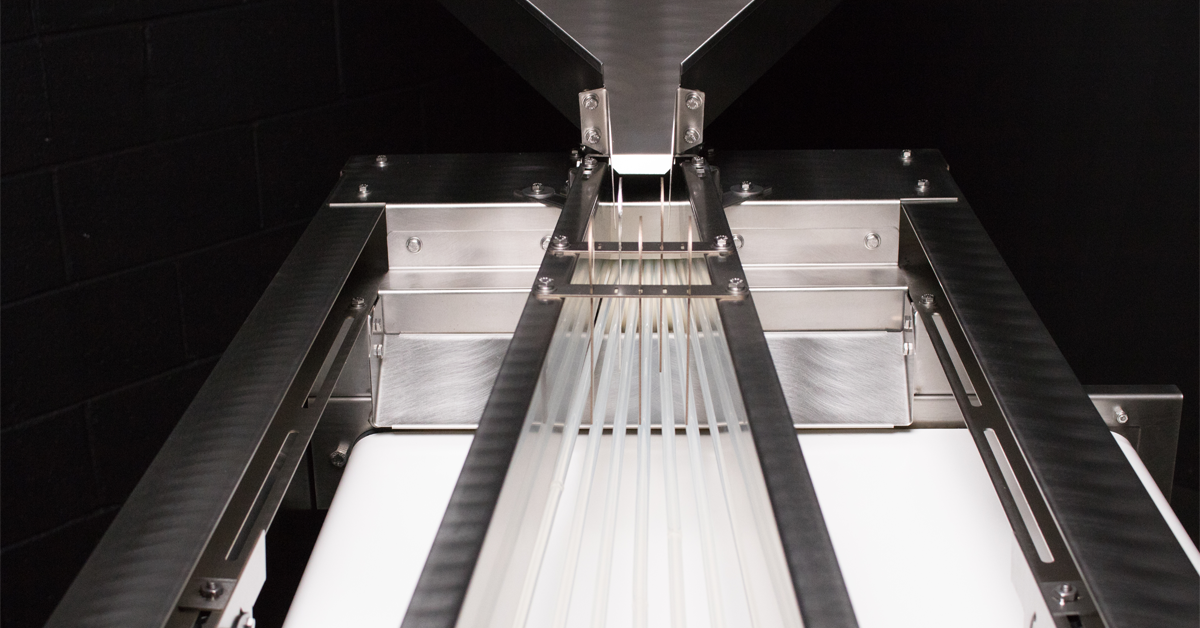 | | | |
| --- | --- | --- |
| 90+ | | |
| Up to 90+ lbs per hour | Maximize production | Easy clean design |
EASY TO CLEAN
Keeping your sorting equipment clean is effortless with the GreenBroz Precision Sorter. Its open design makes every part accessible, ensuring thorough cleaning. Made from food-grade stainless steel, the sorter and its conveyors resist corrosion and bacteria.
Eye On The Bud
We understand the importance of keeping a close eye on your valuable cannabis throughout the sorting process. Our Precision Sorter features an open structure design, ensuring it never hides your product behind metal shrouds. This transparency allows for full control over flower sorting. Enabling you to monitor and safeguard your product every step of the way.
Customize
Being adaptable is key in cannabis processing, and the GreenBroz Precision Sorter excels in this aspect. It offers adjustable settings to meet your specific sorting needs. Whether you require different cannabis bud sizes for various products or need to adjust for a particular batch. Our sorter makes it possible with a few simple tweaks.
Dive Into The Sorter
Watch this quick overview of the cannabis size sorting machine. Fully understand how and why its the best sorter for your harvesting processes.

Process 90 lbs an hour
Organize your cannabis into different sizes at lighting speed.

Customize sorting size
Adjustable sorting bands allow you to tailor each batch to your specifications.

HMI digital user interface
Intuitive touchscreen puts you in total control of your sorting speed.
The First Cannabis Band Sorter
Experience the Future of Cannabis Packaging and Sorting with the GreenBroz Precision Sorter. Leading the cannabis industry, this advanced bud sorter is a powerhouse in enhancing production efficiency. Its user-friendly design and gentle handling of your harvest redefine cannabis processing. By streamlining your operations, the Precision Sorter dramatically reduces labor hours and boosts overall efficiency.
Elevate your cannabis packaging quality with the sorter's ability to quickly and precisely categorize buds into custom sizes. The intuitive, innovative open design of our cannabis sorter ensures the safety and integrity of your product, offering unrivaled visibility throughout the sorting process.
Setting a new standard in the cannabis production space. Choose the GreenBroz Precision Sorter for unmatched care, precision, and efficiency in your cannabis sorting and packaging process.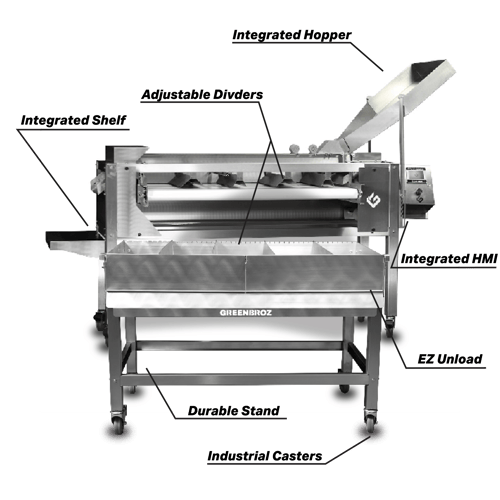 | | |
| --- | --- |
| Bud Sorter | Food-Grade Stainless Steel, HDPE |
| Up to 1.5 Pounds Per Minute | Dimensions: 47"H x 32"W x 109"L |
| Adjustable Conveyor Speed | Power: 110VAC, 60Hz - 220VAC, 50Hz |
| Adjustable Band Speed | Gross Weight: 300lbs |
| Adjustable Height Loading Hopper | |
| Adjustable Front Shelf | |
| Whisper Quiet Motor | |
| Emergency Stop Button | |
| HMI Digital Interface | |
Questions?
Feel free to give us a call or simply reach out through our contact form. Our dedicated team will promptly get in touch with you.
Cannabis Sorter FAQ
Our harvesting experts are standing by to answer all of your cannabis harvesting questions!