The Top Industrial Weed Grinder

The Model G stands out as the premier large-scale weed grinder, expertly crafted for pre-roll production excellence.
With its commercial-grade automatic tilt control and customizable weed material size settings, all housed within a durable full stainless steel construction, the Model G positions itself as the leader in industrial cannabis milling. Offering an unmatched consistency in grind, our commercial cannabis grinder equips you with a significant edge, ensuring a uniform product batch after batch.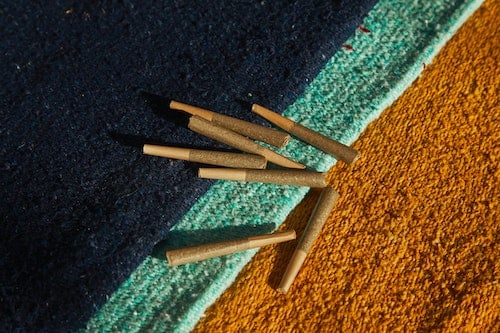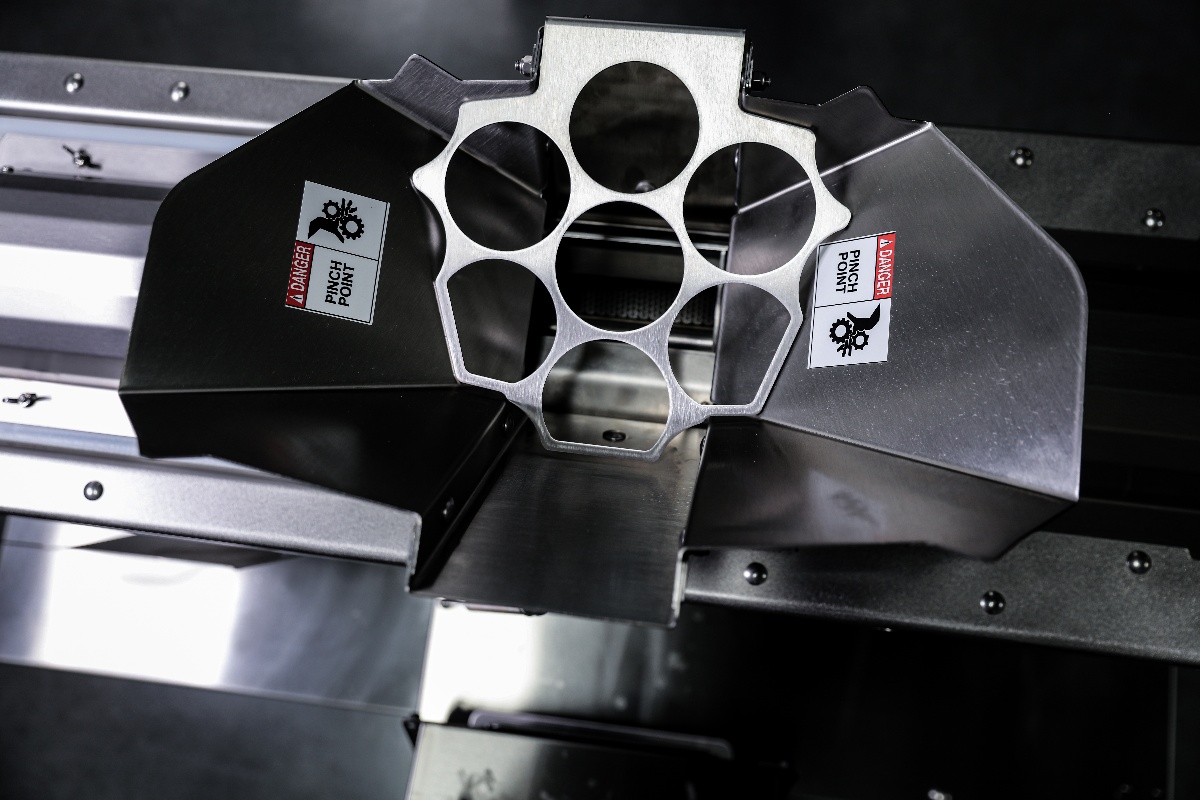 Model G
Your Next Industrial Weed Grinder
| | | |
| --- | --- | --- |
| 100+ | | |
| Up to 100+ lbs per day | Fine tune your grind | Easy clean design |
De-stem
This commercial weed grinder features a milling function that removes plant stems for easy processing. This industry leading feature allows you to create a higher quality product.
Save Your Trichomes
The Model G mills buds instead of pulverizing them into powder. The resulting biomass is perfect for pre-rolled cones. In addition, delicate trichomes are safe from getting scorched thanks to the G's low friction grinding action.
Define Your Grind
The Model G's changeable oscillating sifter gives you total control over your final product. The G comes out of the box with three screens that allow you to sift material into 1/8", 5/32", and 3/16" increments.
The Top Choice For Large Grows
With sustainability in mind, the grinder's energy-efficient operation and long-lasting stainless steel construction make it a smart investment for commercial producers looking to scale. Its ease of use and maintenance ensures that the workflow remains uninterrupted, bolstering productivity. The Model G is the definitive solution for businesses aiming to dominate the market with superior pre-rolls, cones, and joints.

Surgical Stainless Steel
The Model G grinder boasts a premium stainless steel construction, ensuring durability and compliance with industry hygiene standards. This sturdy build withstands extensive use while facilitating easy cleaning and maintenance.

Customize Your Grind Size
The adjustable grind size feature provides versatility, allowing producers to tailor the particle size to the specific needs of each batch, enhancing the quality of pre-rolls and other cannabis products.

Low Friction Grinding
The low friction grinding technology of the Model G preserves the terpene profile and potency of the cannabis, guaranteeing a high-quality end product with a smoother grind and extended equipment life
Consistent Grind Every Time
The Model G sets the industry benchmark with its commercial-grade features, including a sizable hopper that allows for continuous operation without constant refilling. It's a time-saving asset that keeps workflow efficient and output high.
The Model G is engineered for reliability and durability, with a full stainless steel construction that can handle the demands of a busy commercial operation. Its steadfast design minimizes maintenance downtime, ensuring a relentless pace of production.
The Model G is equipped with advanced tilt control and precise particle size configurations, providing a seamless and refined user experience. Producers can expect a hassle-free process with easy-to-adjust settings that cater to varying product specifications for a diverse range of cannabis products.
The Model G large weed grinder doesn't just perform—it outperforms, redefining what commercial entities can expect from their cannabis processing equipment.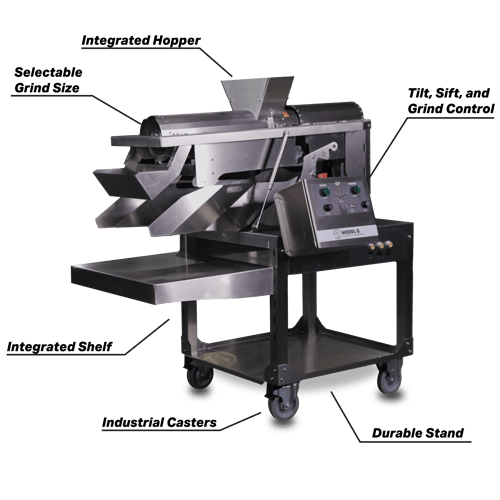 | | |
| --- | --- |
| Grinder + Destemmer | Food-Grade Stainless Steel |
| Up to 100 Pounds Per Day | Dimensions: 53"H x 36"W x 50"L |
| Heavy Duty Stainless Steel Stand | Power: 110VAC, 60Hz - 220VAC, 50Hz |
| Changeable Grind Filters | 1/8" 5/32" 3/16" |
| Removable Catch Tray | |
| Adjustable Automatic Tilt | |
| Variable Speed Control | |
| Adjustable Front Shelf | |
| Whisper Quiet Motor | |
| Forward / Reverse Direction Control | |
| Emergency Stop Button | |
Questions?
Feel free to give us a call or simply reach out through our contact form. Our dedicated team will promptly get in touch with you.