Home Of The Natural Bud
---
At GreenBroz, our top priority has been, and will always be your product. Our cannabis bud trimmers are designed to not round off your flower and produce a hand-trimmed finish every time. Don't tumble your product in a barrel, trim it with precision and speed. We know theres more to trimming then just speed, our cannabis trimmers save you money by not over trimming your product, allowing you to increase your margins while increasing product quality.
Our Dry Sifters Are

Gentle

To Maximize Your Harvest
Our harvesting solutions offer flexibility and reliability you cant find anywhere else.
We have meticulously crafted all our cannabis equipment to be gentle as possible.
CERTIFIED
Easily meet compliance requirements with UL certified electrical components.
FOOD SAFE
Equipment designed to excel in the most rigorous sanitation environments.
| | | |
| --- | --- | --- |
| 2.5 | | |
| Up to 2.5 lbs capacity | Portable at only 56 lbs | Easy clean design |
Small
The 215 Alchemist is a perfect fit for boutique cultivations and operators with limited space. At just under 60 pounds and with a self-supporting stand, the 215 fits into any lineup of processing gear, no matter your space limitations.
Simple
The simplicity of the design is one of the key features that make this dry sift extractor stand out. With its straightforward and streamlined design, it offers a user-friendly experience that is perfect for beginners and experienced trichome extractors alike. Promoting an efficient and effective trichome extraction, ensuring that you get the most out of your dry sift every time.
Efficient
Waste not, want not - turn your less desirable trim into high-demand solventless extracts and clean, quality kief. Get the most from every part of your hard-earned harvest after gentle trimming with one of our automated trimmers, and realize the potential of your trim by turning it into dry sift hash, premium rosin, or infused pre-rolls.

Stainless Steel Screens
The 215 Alchemist is made primarily with surgical stainless steel, including the 180 micron mesh screens used to sift your trim.

Single-Dial Operation
With just one adjustable timer dial to turn, starting up your 215 Alchemist couldn't be easier. Lock your trim, unlock the tumbler, and set your time.

High Yields without Solvents
You can expect approximately 15-25% yield by weight through our standard 180 micron screens when you run with trim alone or with added dry ice.
Start Your Extraction Journey
The 215 Alchemist is an ideal choice for boutique cultivators and operators who have limited space. Weighing in at just under 60 pounds and featuring a self-supporting stand, the 215 seamlessly integrates into any processing setup, regardless of your space constraints.
What sets this dry sift extractor apart is its simplicity of design. With a straightforward and streamlined approach, it offers a user-friendly experience that caters to both beginners and experienced trichome extractors. Its efficiency and effectiveness in trichome extraction ensure that you always maximize the potential of your dry sift.
Maximize your harvest and minimize waste - transform your less desirable trim into highly sought-after solventless extracts and pure, top-quality kief. With the help of our state-of-the-art automated trimmers, make the most out of every part of your hard-earned yield through gentle trimming. Unleash the full potential of your trim by effortlessly creating dry sift hash, exquisite rosin, or infused pre-rolls. Don't settle for less when you can unlock the true value of your trim.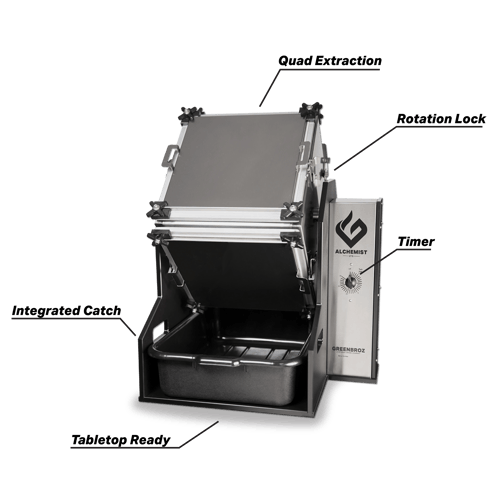 | | |
| --- | --- |
| Dry Trimmer | Food-Grade Stainless Steel, HDPE |
| 1.5 Cubic Feet or 2.5~ lbs | Dimensions: 23.75"W x 24"L x 26.5"H |
| Trim Catch Stand | Power: 110VAC, 60Hz - 220VAC, 50Hz |
| Timer Control | Gross Weight: 65lbs |
| Rotation Locker | |
| Quad 180 Micron Extraction Screens | 80 or 135 Dry Sift Screen Optional |
| Whisper Quiet Motor | |
| Collection Point Lockers | |
Questions?
Feel free to give us a call or simply reach out through our contact form. Our dedicated team will promptly get in touch with you.
Trichome Extractors FAQ
Our harvesting experts are standing by to answer all of your cannabis harvesting questions!
Want to Go Big?

The 420 Alchemist can process 10 pounds of trim at a time while delivering an impressive 15-25% of your trim's weight in kief .