Mid Scale
---
Machinery for next-level operations
Ready to take your business to the next level? You've come to the right place. Boasting higher throughputs than our small-scale machines, these harvest systems have the capacity to grow with your operation as you scale. No matter if you're looking for trimming, sifting, sorting, or more, we have you covered.

MODEL M DRY TRIMMER
THE NEXT GENERATION OF DRY TRIMMING
The GreenBroz Model M Dry Trimmer is designed to closely mimic the act of hand trimming your harvest while at the same time increasing the consistency and efficiency of your harvest process.
While the
Model M
is primarily designed to be gentle, quiet, and extremely easy to clean, the 16 pounds per hour capacity allows you to trim your cannabis or hemp as quickly as anyone in the game.
Whisper if you want or play music while you trim. No vacuums or large attachments needed.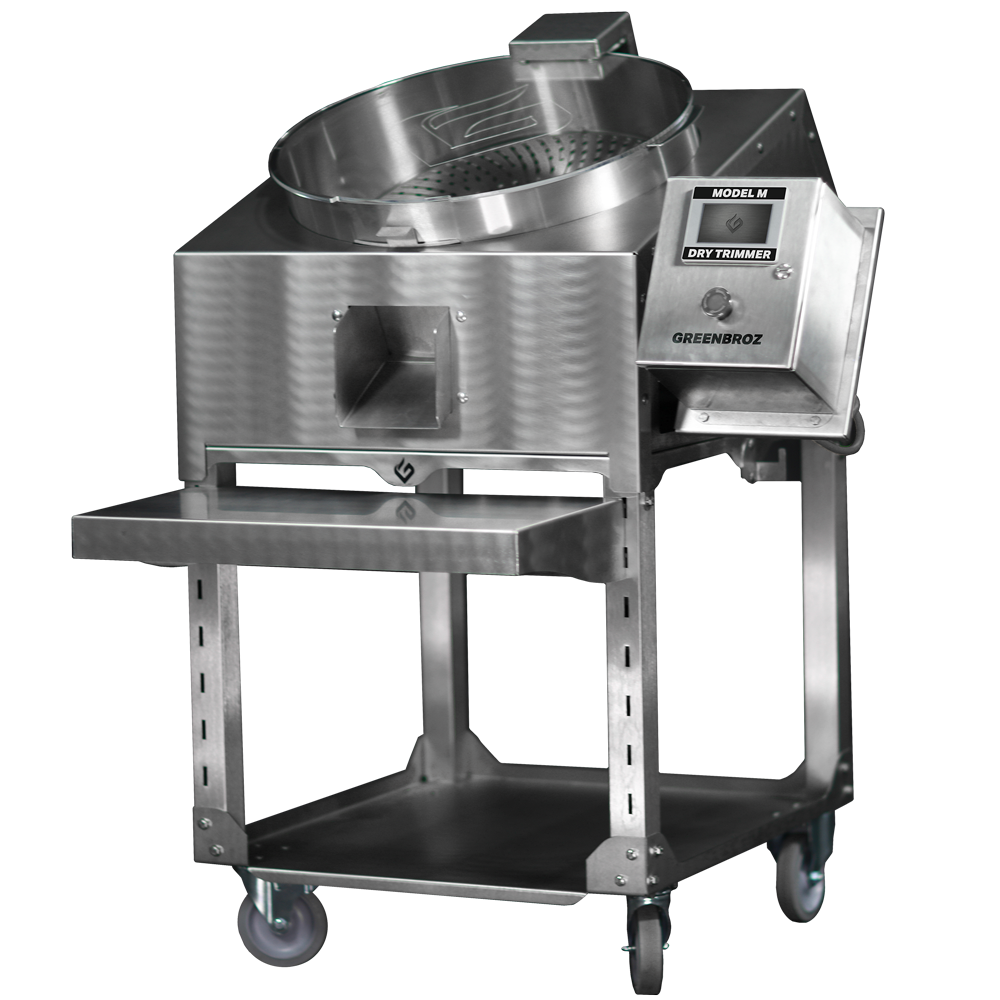 PRECISION SORTER
Maintain Quality. Process Faster.
The GreenBroz Precision Sorter is a revolution in size sorting for your harvest. Simple to use and gentle on your cannabis or hemp, our Precision Sorter allows you to exponentially speed up your sorting process (Sort 90lbs/hr) while maintaining that fine quality for which your brand is known.

Faster sorting times allow your cannabis to spend less time in the processing phase of your cultivation, in addition to being handled less by your staff, ensuring that your product remains as close to fresh off the stem as possible.

Maintain your quality while processing your flower faster with our Precision Sorter!
The GreenBroz Rise Conveyor represents a further step in automating your harvest process, boasting continuous and metered feeding to various machines in your harvest process, further improving the efficiency of your harvest process.

Easy to move from machine to machine, the Rise Conveyor holds up to 15 pounds at a time and, when paired with our Sorter, allows you to sort 5+ pounds per minute.

GreenBroz has paired the Rise Conveyor with other machines like the Precision Sorter to create harvest systems that reduce your investment cost (compared to buying machines individually) while dramatically increasing the efficiency of these machines.
Alchemist 420
Turn Your Trim Into Gold
The GreenBroz Alchemist 420 is a dry-sift, solvent-free trichome extractor designed to ensure you are getting the absolute most out of your harvest.

Our GreenBroz Dry Trimmers are so gentle on your flower that the trim is perfectly preserved and ready to be thrown straight into the Alchemist 420 for simple extraction.

The Alchemist 420 Extractor can be operated as a stand-alone unit or with the addition of pulverized dry ice, using '180 Micron' screens to provide the highest yield and most quality product possible.

Turn your perfectly preserved trim from our GreenBroz Dry Trimmers into further profit in an instant with the Alchemist 420 Extractor!
Longs Peak Rosin Press
Industry Leading Rosin Technology
The Longs Peak Rosin Press, by Pure Pressure, boasts 8 tons of pressure and was engineered to provide years and years of reliability while giving you the highest quality press on the market.

Pre-set recipes, dual pressure control, and Pressware™ technology are just some of the amazing features of this industry-leading machine. Additionally, each and every rosin press is proudly made by hand in Denver, Colorado with top-quality components.
See What Our Customers Are Saying

At Sira Naturals, Inc., we love the GreenBroz company! Everything is made in the USA. We have been customers for the last 4 years and have an excellent relationship. They are always responsive and go above and beyond to make sure we have the support we need.
Lisa Jordan
Processing Manager | Sira Naturals, Inc.

The GreenBroz Precision Sorter is one of the most important machines in our arsenal. It is the first step in all of our packaged cannabis production and an integral tool for the purchasing of raw goods. It saves us countless hours every day.
Jake Hendrickson
Co-Founder/Managing Partner - lbs. Distribution

In the 40 years I've been in the industry, I've seen a lot of change. But the one thing that doesn't change is the need for quality partners to work with. People who care about your success as much as you do. GreenBroz is one of those companies. Made in the USA, Veteran-owned, they create a quality product that helps us as cultivators create a finished product that works in the market of today.
Kevin Jodrey
Cannabis Expert