6 min read
A Pivotal Moment for the Pre-Roll Market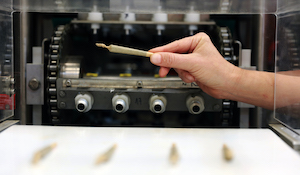 With over 600 pre-roll brands vying for business in the state of California alone, cannabis producers are pressed to gain relevance in a highly competitive market. Across North America, cannabis businesses are ramping up their pre-roll production and implementing expansion plans to leverage their strategies. As consumer demand for pre-rolls continues to grow and technology advances, cannabis businesses of all sizes have the opportunity to secure a spot in the future of the industry. Automated pre-roll machines and industrial grinders have changed the game and smart entrepreneurs are investing in the technology that will give them a competitive edge in the burgeoning pre-roll market.

Pre-Rolls are Trending
The pre-roll sector of the cannabis market is crowded, competitive, and growing. In states like California where the cannabis industry is thriving, no single brand commands more than three percent of the market. For business owners, this is both intriguing and intimidating. Incumbent businesses have the advantage of recognition and capital, but a recent survey conducted by Headset found encouraging data for start-ups focusing on pre-roll production. In 2020, over half of the pre-roll focussed businesses surveyed by Headset have been in business for three years or less. The pre-roll market is anyone's game, but time is of the essence. Adult-use cannabis is already legalized in 19 states, and the automated technology available to the industry enables businesses to plan for a globally legalized future filled with high-quality pre-rolls.
As of 2021, 95 percent of pre-roll brands have implemented strategies for expansion. These expansion plans are not solely driven by the opportunity to make a name for themselves in the pre-roll market. Pre-roll sales were the second largest cannabis sales segment in 2021, outpaced only by flower. Consumers of every demographic are demonstrating their interest in pre-rolls. And speciality products, like half-gram multipacks and infused pre-rolls, are growing in popularity among niche consumer groups.
When cannabis businesses are defining their strategies for pre-roll production, they must consider their geographic retail territory and their target consumer groups. Data analysis from a variety of research organizations has revealed valuable information about trends in the pre-roll market. In many regions across North America, overall cannabis sales have declined over the last year, but pre-roll sales have skyrocketed. For example, Arizona's adult-use declined by six percent from December 2021 to January 2022, but their pre-roll sales expanded 128% in the same time period. This data suggests the decline in overall cannabis sales should not discourage businesses from investing in their pre-roll production strategy.
Varying regulations, differing cannabis cultures, and diverse consumer populations contribute to the competitive nature of the pre-roll market. Pre-roll multipack sales are significantly higher in Canada than in the U.S., and infused pre-rolls are much more popular in the U.S. than they are in Canada. In the U.S., infused joints accounted for 32.4 percent of pre-roll sales over the course of 2020 and 2021, while Canada's infused joint sales accounted for just .1 percent of their total pre-roll market segment over the same time period. These are formative times for the cannabis industry, and businesses that thoughtfully consider their target consumer base and their retail environment will have a better chance at establishing relevance in the prer-roll market segment.
Strategies to Gain a Competitive Edge
Because the industry has access to technology that enables consistent production of high-quality pre-rolls, brands across the world have shown consumers that pre-rolls are worth their money. A wide range of consumers have taken interest in pre-rolls, and the industry has an opportunity to fulfill the demands of different consumer groups. Pre-rolls are popular among consumers of all ages, genders, and experience levels.
With a diverse consumer base, pre-roll brands must choose a market niche for their production and sales strategies. Connoisseurs often look for specialty pre-rolls with infusions, kief, and impressive terpene profiles. New cannabis consumers seek approachable pre-rolls for easy smoking. And consumers with limited funds seek pre-rolls that provide a quality smoking experience for an economical price. Brands that speak to the needs of specific consumer groups will have more success building customer loyalty and perfecting their unique type of pre-roll.
Pre-roll brands can find success in the industry by developing intentionally crafted products and marketing them accurately. While a customer's identity influences their product preference, all consumers want to know what to expect from their cannabis product. While the indica/sativa binary has reigned for years as the primary product descriptor in the industry, a more accurate trend is beginning to take hold. Products with detailed information about their cannabinoid content and terpene profiles give customers a more holistic picture of their smoking experience. Pre-roll brands that prioritize flower quality and packing integrity will be able to market their products more successfully.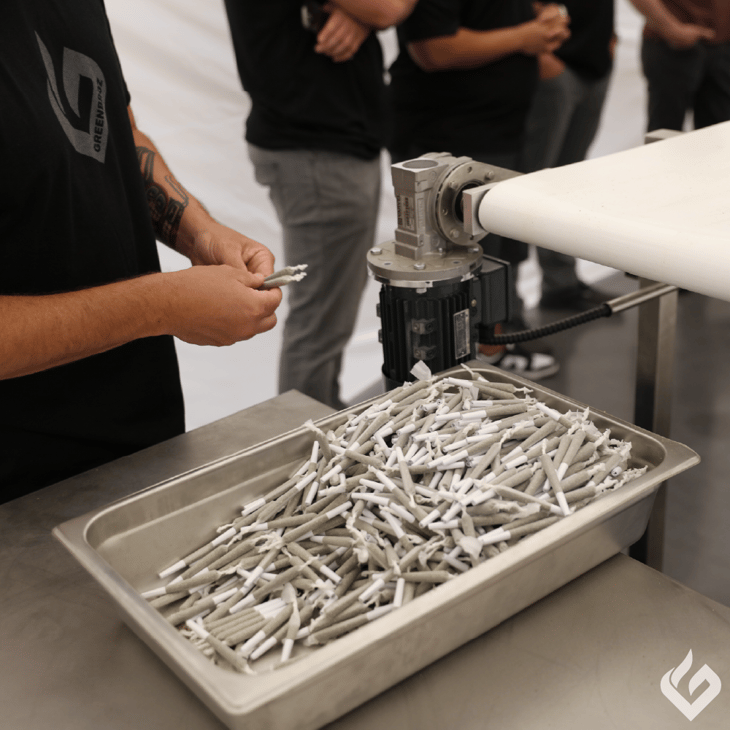 Automating Pre-Roll Production
The growing demand for different types of pre-rolls necessitates the implementation of automated processes for cannabis businesses. From 2018 to 2021, the market share of infused pre-rolls in U.S. retail grew from 12.7 percent to 31.9 percent. Multipack sales have also increased significantly over the last two years, increasing 69.4 percent. Automation helps businesses carry out their expansion goals and adapt to changing consumer interests.
Like other agricultural industries, cannabis must have the ability to produce efficiently and consistently. Automating the post-harvest process saves time and money, gives operators more control over production, and improves the final presentation of the product. With complex and evolving regulations, a highly competitive marketplace, and slim margins, automation gives cannabis businesses the opportunity to achieve sustainability in the pre-roll market.
Building a fully automated pre-roll system involves a variety of technology and individualized solutions that optimize specific production goals. Industrial trimmers, sorters, grinders, and trichome extractors all help businesses optimize their pre-roll production. When used in concert with high-quality pre-roll machines, these systems can drastically improve efficiency and precision. Today's best pre-roll machines are as gentle as the human hand, incredibly accurate, and capable of producing hundreds of pre-rolls in a matter of minutes. Pre-roll brands have a chance to make a name for themselves in a highly competitive market, and with the implementation of an expansion plan with total turn-key solutions for pre-roll production, businesses can transform their long-term role in the industry.