4 min read
The Best Bud Trimming Machine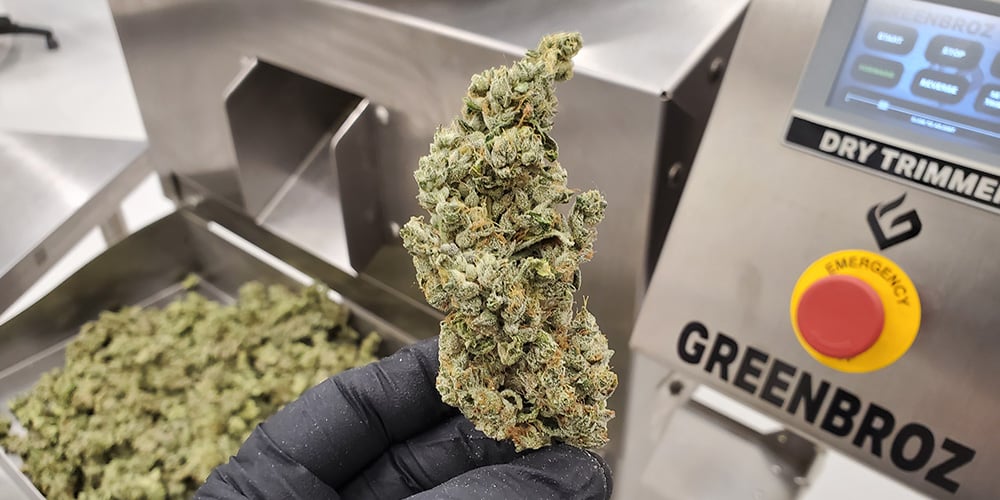 A cannabis trimming machine is the ultimate symbol of innovation in the cannabis industry. In fact, forward-thinking cultivation facilities understand that automation is more than an inevitability — it's the path to a thriving business.

That's because today's cannabis tech allows growers to offer a consistent, high-quality product - in addition to an incredibly streamlined production process to save time. But when it comes to providing artisan-quality results that affect potency, one bud trimmer is a cut above the rest: the GreenBroz Model M Dry Trimmer.
Why Buy a Dry marijuana Trimming Machine?
Before we dive into why the GreenBroz Model M is the best dry trimmer for innovative cultivators, let's settle the pros and cons of the wet trim vs dry trim debate.

Dry trimmers are better at preserving the flower, ensuring that you maintain the quality of your flower and that quality gets passed down to your customers. Cultivators know that wet trimming negatively impacts the "nose" of their flower, often resulting in that "wet grass" or hay-like smell. Wet trimmers reduce the overall quality and consumer experience of the harvest you've worked so hard to perfect.

If you value the purity of your product, it's crucial that you don't settle for anything other than a dry trimmer.
Introducing the Model M Dry Trimmer
The GreenBroz Model M is revolutionizing the cannabis industry by offering consistency, efficiency, and high-quality results all in one machine.

Our patented blade technology works through two counter-rotating blades with curved slots that finely manicure your flower. This unique setup is more than just soothing to watch: while other machines toss and damage plants, the Model M's gentle rolling action was specifically designed to protect the structure of your flower and preserve trichomes like hand-trimming.

Plus, our impeccable machine was designed to be fast, with the ability to produce 8-12 pounds per hour, conservatively. In one day, you can run up to 100 pounds of flower with just one bud trimmer, making it the must-have machine for large cultivators.

The best Bud Trimming machine
Our Model M Dry Trimming machine was designed to reduce human error and allow you to trim flowers with extreme precision - a necessity for large cultivators dealing with one of the most high-value agricultural products in the world.

One worry with automated machines is over-trimming - a consequence of weed trimming machines that operate by simply chucking product 'in one end and out the other,' giving you no control over the quality of the product. With the Model M, the operator can decide when it's done, so there's no unnecessary over-trimming.

And remember, when you're dealing with raw material this expensive and in such large amounts, accuracy is everything. That's why it's so crucial that, in addition to bringing your customers consistently hand-manicured looking product, an efficient machine like the Model M allows large cultivators to get the most from their harvest.

Of course, every aspect of the machine was designed to streamline your production process - even the whisper-quiet motor allows users to talk and listen to music while it's operating. That means no loud vacuums or other clunky attachments - our Model M is made to fit seamlessly into your facility.

Our cannabis and hemp trimming machine offers a forward/reverse switch, adjustable speed control, and an adjustable timer. With these simple, intuitive controls, operating is easier than ever, saving you precious time and labor.
To limit contamination in hard-to-reach corners, the Model M was designed with a motor sealed in a waterproof compartment and a control panel outside the machine, allowing for quick disassembly, cleaning, and reassembly. Cleaning can be as simple as removing the control panel and washing down the machine. And, the blades are easy to load, unload, and clean.
Worried about increasingly strict compliance standards? The Model M was designed to specifically meet GMP and international regulatory standards, constructed with surgical-grade stainless steel anywhere the blades touch the plant, so you can rest assured that your machine is durable enough to stand the test of time. Additionally, the electrical box is UL and CE-rated. We're also proud to say that every GreenBroz machine is manufactured in the US, and our products are designed and precision-tooled by cannabis industry experts.


What do all these elite features add up to? That it's finally possible to protect your bottom line without sacrificing hand-manicured quality. All you have to do is choose GreenBroz's Model M Dry Trimmer for your facility. Contact us to learn more about one of the most innovative inventions in the cannabis industry.