4 min read
The Ultimate Trichome Extractors Dry Sift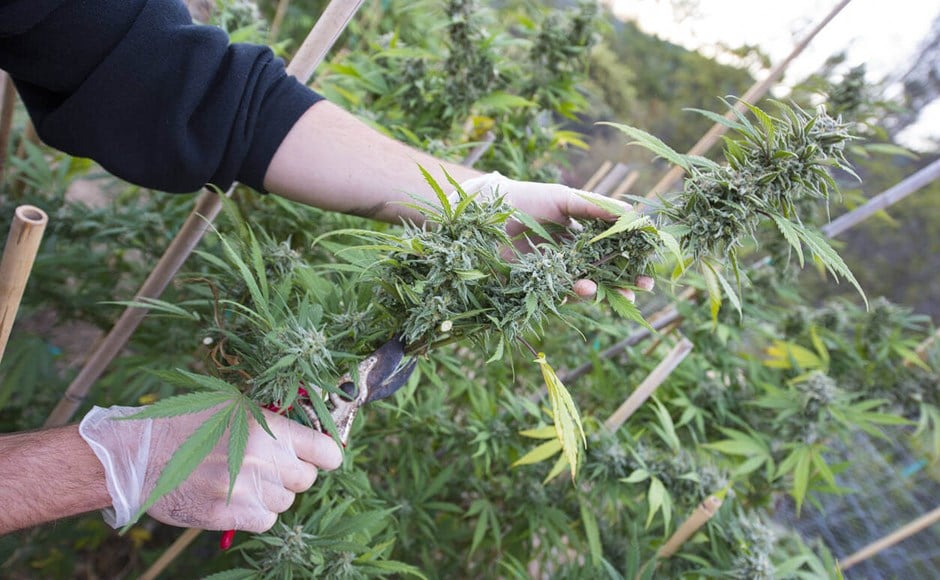 Dry sifting always required an artisanal touch - but trichome extractors like the GreenBroz Alchemist completely changed the game by simplifying the process without sacrificing craftsmanship.
Why Every Grower Needs a Trichome Extractor
These trichome machines are quick, precise, and cost-efficient; best of all, they turned what used to be a tedious and time-consuming process into the ultimate form of kief extraction. No more wasting unprocessed trim by selling it for pennies on the dollar. Instead, cultivators of all sizes get a chance to produce a high-quality, full-melt hash that is perfect for rosin.
But even among the best kief tumblers, the
Alchemist 215
and
Alchemist 420
offer unprecedented returns on your harvest like no other machines on the market.
The Ultimate Trichome Extractors
The Alchemist 215 and 420 can extract the majority of trichomes from your trim (around 15 - 25% by weight) in just one session.
In fact, the
Alchemist 215
and 420's gentle rolling action precisely extracts the resin glands from your trim while protecting the plant matter - meaning you can run the machine again to maximize your yield.
Our kief tumbler can also be run with or without pulverized dry ice and sieves the trim through four 180 micron screens. If you'd like a smaller screen to capture just resin glands sans stalks, there are 80 or 135-micron screens available.
In under a half-hour of processing, you can use a brush or a spatula to scoop the hash away from our 4 trichome panels and voilà - kief that's ready to be pressed into rosin, sent off for edibles, or stored for long-term use.
Why Solventless Dry Sifting Matters
Because it keeps the entire trichome intact, a solventless process is perfect for producing full-spectrum, potent kief with the cannabinoids, terpenes, and flavonoids preserved. That means the Alchemist machine is perfect for concentrates, extract, rosin, shatter, wax, or butter.
The Dry Ice Method
With the Alchemist, cultivators can choose whether or not to dry sift their trim with a few scoops of pulverized dry ice. Some growers like the colder temperatures because they keep the trim nice and rigid, reducing stickiness and limiting the number of impurities that pass through the sieves.

The dry ice also makes the trichomes' stalk brittle, making it easier for them to break off the plant, thus resulting in a faster sifting session and a higher yield.
The Trichome Machine with the Purest Product
Your harvest is already high-quality. But with the right techniques, you can produce an even more potent kief. Want a pure concentrate devoid of plant contaminants? A trichome machine all but eliminates human error, allowing cannabis cultivators to create a consistently pure hash.
The Alchemist Infrastructure
The Alchemists' are constructed entirely of food-grade materials, reducing the risk of microbial growth.

They are also easy to load, easy to operate, and even easier to clean. Our trichome panels can be removed, washed, then locked into place without too much work.
Let's Dry Sift Some Numbers
Smaller harvesters can opt for the
Alchemist 215
which has a capacity of 1.5 cubic feet. But our commercial machine, the
420, has a capacity of 2.5 cubic feet and can handle as much as 10 pounds of trim at a time. With the Alchemist 420, larger cultivators can process 100 pounds of trim in an astounding 5 hours. Regardless of your operation's size, we have a dry sift tumbler for you.
How to Operate the GreenBroz Alchemist
At GreenBroz, our goal is to streamline your operation and save your employees precious time and labor. That's why our dry sift machines are beyond simple to operate:
1) Lock the tumbling box at a 45 angle.
2) Remove the trichome screen.
3) Fill the tumbler with trim and dry ice. (if using the dry ice method)
4) Firmly lock the screen and unlock the tumbling box.
5) Turn on the Alchemist for around 10-15 minutes!
6) Lock the tumbling pin into place.
7) Unlock the collection trays.
8) Lift the trichome tray away from the machine.
9) Use a scraper to gather the kief.
10) Repeat for the other three trays.
11) Remove your trim or run the Alchemist again!
The Benefits of Dry Trimming
In general, there are a few conditions that make for the highest quality dry sifting: the trim or bud used should be dry, but not so dry that it crumbles and passes through the sieve. Luckily, GreenBroz dry trimmers are designed to create trim that's in the perfect condition to be dry sifted, so you can get the highest possible yield of trichomes.

You worked hard on your harvest. If you want to maximize your bottom line, you need to use the most precise, user-friendly machines on the market, like the GreenBroz Alchemist 215 and 420. Contact us and our expert representatives to learn more about our Alchemist machines and our Veteran-run, American-made company.